Right Business Structure
On January 24, 2017 By Rocky Singh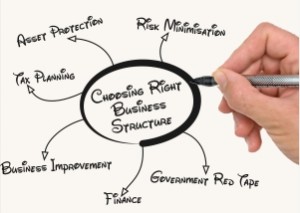 Choosing right business structure is very important for the success of the business. Whether it is a small, medium or large business, deciding on business structure is always dilemma for many business owners. Before deciding which business structure to use, it's important you seek advice from a professional business adviser or an accountant.
There are different types of business structures and each has its own advantages and disadvantages.The most common types of business structures are
1. Sole trader
2. Partnership
3. Trust
4. Company
For some businesses, you might need multiple structure setups and it's always good have advice before you start operating. It is also important for business owners to review its business structure from time to time so that they are not locked up with same structure for life of the business which can limit its growth. As your business grows or changes, you might need to change the structure that suits your business needs. It is also important to know the advantages and obligations of new business structure.
While recommending any business structure, factors should always be considered are Asset Protection, Risk Minimization, Tax planning, Government Red Tape, Improvements and Finances.
At Australian Business Tax, we consider all these factors when advising on business structure to our clients. We advise on new business structure and review your existing business structure to make sure your assets are protected and business risks are minimized and we'll recommend changes if needed.We're also specialized in business structure advice for Health and Medical Practitioners, including for Medical Centers and Dental Practices.
Australian Business Tax have got your back when it comes to your Accounting, Taxation, Business Structure advice or Finance needs with over decade of experience working with small and medium businesses life yours…
Call us to book an appointment today on 07 3393 2221